The 'Vision'

Midnight Special is dedicated to preserving the spirit of performing well-crafted dance music from the 60's, 70's, 80's and beyond.

The 'Philosopy'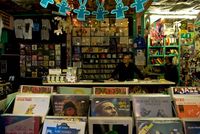 In the 1960's and 70's retail stores sold nothing but vinyl albums, it was an age before digital downloads. Every bar had live bands on Saturday night, with baby boomers keeping those establishments rocking 'til the wee hours. If we couldn't see a concert, we would often stay up late watching live performances on one of the five available channels on our television. With today's technology blurring the line between what is real and live, Midnight Special brings that era back with the music that you love. 



The History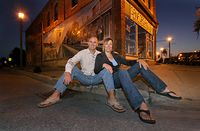 Husband and wife, Wayne and Kim, pursued very different musical interests since their marriage in 1991.  As a graduate from York University's Music program, Wayne enjoyed the Jazz and Rock scene with various bands across Southern Ontario, and Kim sung in choirs; two very different genres and styles of music. In 2004, Wayne performed locally with a guitar player but required a strong female lead; so with her strong ear for harmonizing,  Kim came on board. In 2007 the guitarist left to pursue other musical ventures. Wayne and Kim met other local musicians and formed a bar band with a small local following. In 2007 they met bass player Glen at a local church and he occasionally subbed in on local gigs. Glen came on board and the genesis of Midnight Special began. The following two years saw various guitarists and drummers coming in for short stints. With practices in Glen's barn on the outskirts of Proton Station, acquiring a committed guitarist and drummer was their next step. Drawing on Glen's connections, Trevor and Mark arrived on guitar and drums respectively. It was at this point that Midnight Special was born.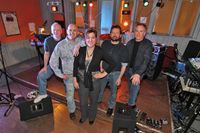 For 3 years Wayne, Kim, Glen, Trevor and Mark performed across Southern Ontario honing their performances for various bars, and even began branching out to include some corporate work. Unfortunately, Trevor and Mark left in 2013  to pursue their own solo work. It was during this time that Wayne found their current drummer Rob who performed with Toronto's Fleetwood Nicks cover band. As the band performed many Fleetwood Mac songs, his addition was key to their rhythm section. Little did Wayne and Kim know that Rob's  wife Joanna also performed with Fleetwood Nicks, she now fronts the group with Kim.
As a 6-pc band with Wayne on keys and sax, their next logical step was to add a trumpet player to complete the horn section. 'Scotty' lived locally, and not only could he play trumpet and harp, but as an ex barbershop singer, he was a wicked harmonizer and is key to their unique 4-part harmony.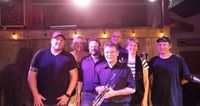 Months later, the band finally found their gem of a permanent guitar player. As the youngest member of the band at 27, Sean graduated from Guelph-Humber with a music degree. He is a highly skilled and schooled player who can perform the important lead lines and strong rhythms needed for a band of this caliber. 
Today, bars can't typically support the space required for a 7-pc band, and the band is ok with that. They are not a loud guitar driven group. They push themselves musically, and leveraged their abilities to perform more complicated pieces such as "Peg" by Steely Dan. They work on the finer musical details of their performance that put them well above your 'bar band' status; and as such, their fee is commensurate with the extra work and quality of their performance. They are not a Tribute Band, but play tribute to the great bands that have shaped a generation. Corporate and private parties continue to be their specialty. 
Post Covid: After a long hiatus and with the unfortunate exodus of our founding member Glen (who now lives in Scotland half-time) and Sean (who now has a young family to raise), Midnight Special found two new members Fred and Keith to compliment their existing line-up. Both come with a wealth of playing and performing experience. 

What They Offer:

1. Experience: the members are all solid musicians with years of experience performing around Southern Ontario. 

2. High Energy: as a 7-piece, the band engages the audience, and each other, in a continuous flow of music. Less chat more music. 

3. Instrumentation: Midnight Special has a rare combination of multi-instrumental players. In addition to primary and secondary keyboards, guitar, bass and drums, they include violin, ukulele and a horn section of trumpet/sax  The entire show is live with no backing tracks.

4. Professionalism: the band demonstrates a professional approach in everything they do. 

5. Focus on the vocals: the band is not a loud guitar driven group. With two women fronting the band, vocal melodies and harmonies are their top priority.